Wouldn't it be great to know the secrets behind creating impressionism art? Now you can!  Here are all the easy impressionism art techniques for you to apply to your paintings. These are doable for any skill level! 
Most painters would love to be able to paint like the Impressionist Art Masters. The gorgeous colors, the loose and vibrant brushstrokes continue to impress a century later.  If you're like me, just having the ability to add a touch of this style to your paintings would be considered a true gift.  As a fellow artist, I'm showing you what I've learned about Impressionism Art over the years and how you too can easily incorporate impressionism into your artwork for that "wow" effect!
You are going to learn all about impressionism art definition, characteristics of impressionism|impressionism artifact, impressionism painting, impressionist art, impressionism time period, modern impressionism art, French impressionists, impressionism artists, post impressionism art,  impressionism art book and so much more!
As an artist myself with decades of painting award-winning paintings on canvas, I can tell you first hand the best Impressionism Art tips that are guaranteed to elevate your art work to a whole new level!
This post is all about the very best tips for creating Impressionism Art  that every artist and painter can learn. 
Creating Impressionism Art For All Artists
1.Impressionism Art Definition
Impressionism  originated with a group of Paris-based artists whose independent exhibitions brought them to prominence during the 1870s and 1880s.
It's style is characterized by:
small, thin, highly visible brush strokes
emphasizes changing light
uses ordinary subject matter
unusual visual angles
the inclusion of movement
Adding these elements to your artwork alone will give it that Impressionism Art style. Let's go into more details on these elements.
2.Characteristics of Impressionism|Impressionism Artifact
Impressionism Art creates a central theme that focuses on presenting the subject matter in a way that leaves a lasting impact on the viewer.
The emphasis is on portraying light and other natural elements pertaining to the subject matter in a dynamic fashion that is very different from the earlier, 1700's and early 1800's, static painting style.
Here are some more specific elements of impressionism Art:
Broken color
Loose and fluent brushwork
Relaxed and sometimes inaccurate drawing
Capturing a fleeting environment instead of a static one
Compositions which place you the viewer in the painting
In your art planner, art journal practice painting skies using no less than four colors and with all the elements outlined in sections one and two.  Don't blend any of your brush strokes and step back frequently to get the best perspective.
Now do the same exercise but paint a path along the ground.
Impressionism art is as much about what to leave OUT of your art as it is what to include.
[Related post:Drawing People-Quick and Easy]
3.Impressionism Time Period
The Salon des Refuses- Where Impressionism Art Was Born
In 19th century France it was a time of change, and the Académie des Beaux-Arts dominated French art.
Historical subjects, religious themes, and portraits were valued; landscape and still life were not. The Académie preferred carefully finished images that looked realistic when examined closely. The use of precise and blended brush strokes, and restrained colors were prized.
The Académie had an annual, juried art show, the Salon de Paris, and artists whose work was displayed in the show won prizes, garnered commissions, and enhanced their prestige. The standards of the juries represented the values of the Académie, represented by the works of such artists as Jean-Léon Gérôme and Alexandre Cabanel.
In the early 1860s, four young painters—Claude Monet, Pierre-Auguste Renoir, Alfred Sisley, Édouard Manet, and Frédéric Bazille—met and discovered that they shared an interest in painting landscape and contemporary life. Following a practice that had become increasingly popular by mid-century, they often ventured into the countryside together to paint in the open air. By painting in sunlight directly from nature, and making bold use of the latest vivid synthetic pigments, they began to develop a lighter and brighter manner of painting. 
During the 1860s, the Salon jury's severely worded rejection of Manet's painting appalled his admirers, and the unusually large number of rejected works that year perturbed many French artists. After Emperor Napoleon III saw the rejected works of 1863, he decreed that the public be allowed to judge the work themselves, and the Salon des Refusés (Salon of the Refused) was organized and attracted more visitors than the regular Salon.
Critic and humorist Louis Leroy wrote a scathing review in the newspaper Le Charivari derisively titling his article The Exhibition of the Impressionists, Leroy declared that Monet's and the others' paintings were at most, sketches, and could hardly be termed a finished work. The name and the movement gained momentum and have been revered ever since.
To paint impressionism art it will help you to remember that it was founded as a rebellion against photorealism style.
4.Impressionist Art
Here are some more general characteristics to incorporate into your artwork to give it that Impression Art flavor.
No realism
No blended or  invisible brush strokes
Capture a momentary, fleeting effect, especially the effects of light.
Paint out of doors and try to capture the bright, setting or rising sunlight.
Embrace an unfinished or messy look.
Use less blended colors, instead put the colors next to each other.  For instance instead of mixing white and violet to create a light violet, put several white and violet brush strokes next to each other.
Remember, it took a long time for society to accept this new style. It may also take you awhile to accept it.  I know it helped me to consider these works as "sketches" at first.  I put them up on the wall of my studio and after several months began to see them as beautiful finished works.
[Related Post: The Essentials for Gorgeous Paint Pouring]
5.Impressionism Painting|Impressionism Artists
Now let's see some examples of these Impressionism Art elements you are trying to adopt using the master Impressionism Artists:
1. Use broken not blended colors.
Instead of painting the sky a static blue, Monet often used a range of separate yellows, purples, blues and greens as seen in his A Corner Of The Garden At Montgeron, 1877. You can practice replacing one color with many to achieve this stunning result.
2.  Go for bold brush work.
The top impressionists were not afraid to use bold and almost aggressive brushwork. If used appropriately, you can use this kind of brushwork to add a very dynamic element to your paintings.
Vincent van Gogh is the king of bold brushwork such as in his painting of Dr. Paul Gachet, 1890
3. Use large brushes.
Painting like an impressionist can best be achieved by using brushes much larger than what you are usually comfortable with such as those used by Monet in Sunset on the Seine. Palette knives are another great way to create these Impressionism Art strokes.
4. Apply stunning contrasts.
Claude Monet's, Houses Of Parliament is the perfect example of beautiful contrast. Many of the great impressionists skillfully contrasted warm and cool colors in their paintings to create stunning effects such as this dominant orange against the dirty blue, and you can too!

5. Use less detail.
To paint like an impressionist, you need to determine what is actually important in your painting and simplify the rest.  You want to try and communicate your message through your painting with as few strokes as possible as seen here in Sucrier et Citrons by Pierre-Auguste Renoir.
6.French Impressionists
Let's examine works by the French Impressionists. Now can you spot the elements that make them Impressionism Art?
1. 

Claude Monet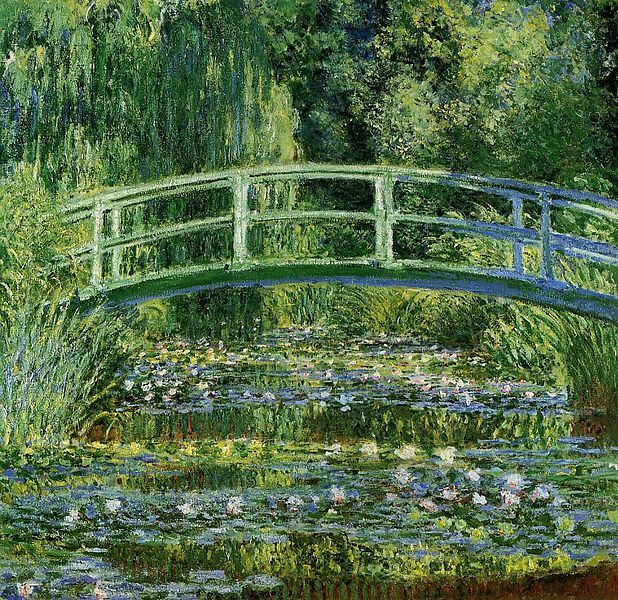 Monet's considered the leader of the Impressionism Art movement via his use of light, capture of emotion and bold colors and strokes. 
2. 

Edgar Degas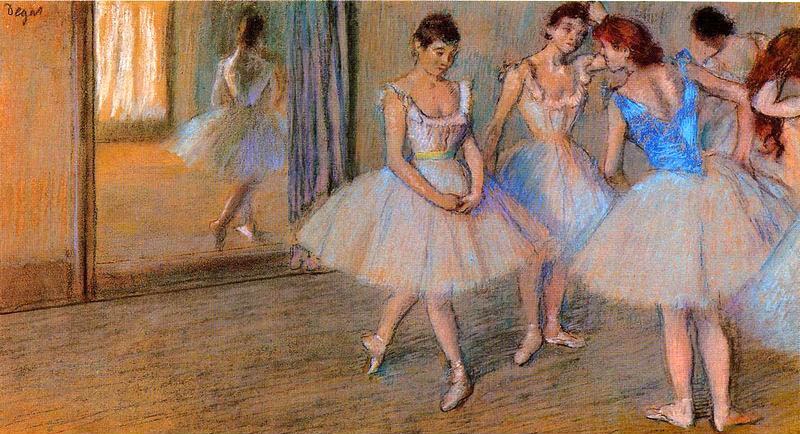 Although Degas's painting style closely adhered to an accurate representation of reality, his ability to capture a fleeting moment, his multiple colors that make up the "white" skirts and his lack of unnecessary detail make his work Impressionist Art.
3. 

Pierre-Auguste Renoir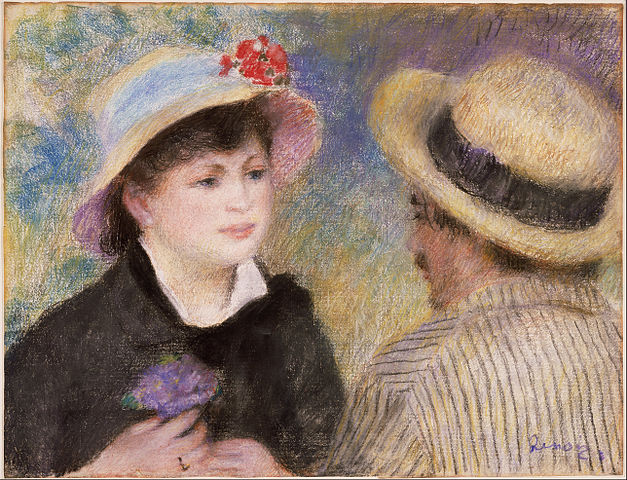 The name Pierre-Auguste Renoir is synonymous with French Impressionist art, and from this painting we can see why. He used a range of vibrant colors that were saturated in a way that produced a truly unique form of expression and captured the fleeting Parisian society and light like no other artist.
4. 

Édouard Manet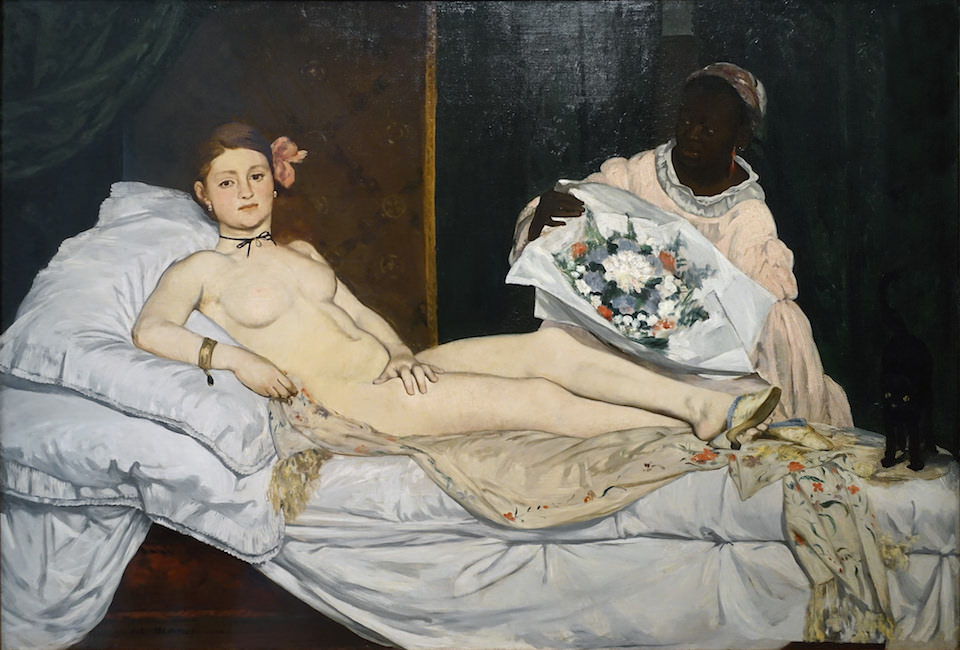 Édouard Manet  transitioned from being a well-known Realism artist to one who worked mainly in the Impressionist genre once the movement started to take hold in France. His use of nude female figures in casual settings, use of light and shadows to depict groups seated in the shade of shadows, as well as his use of contrasting light and shadows made him one of the most famous Impressionism Art painters.
5. 

Camille Pissarro
Camille Pissarro  is widely known for his unique ability to paint breathtaking Normandy landscapes and vistas with simple bold strokes and without fussy details. He developed a reputation for using light in a way that portrayed the very first impression he had of a particular scene. It's no wonder he is still considered one of the most influential painters to use the Impressionism Art style.
6. 

Berthe Morisot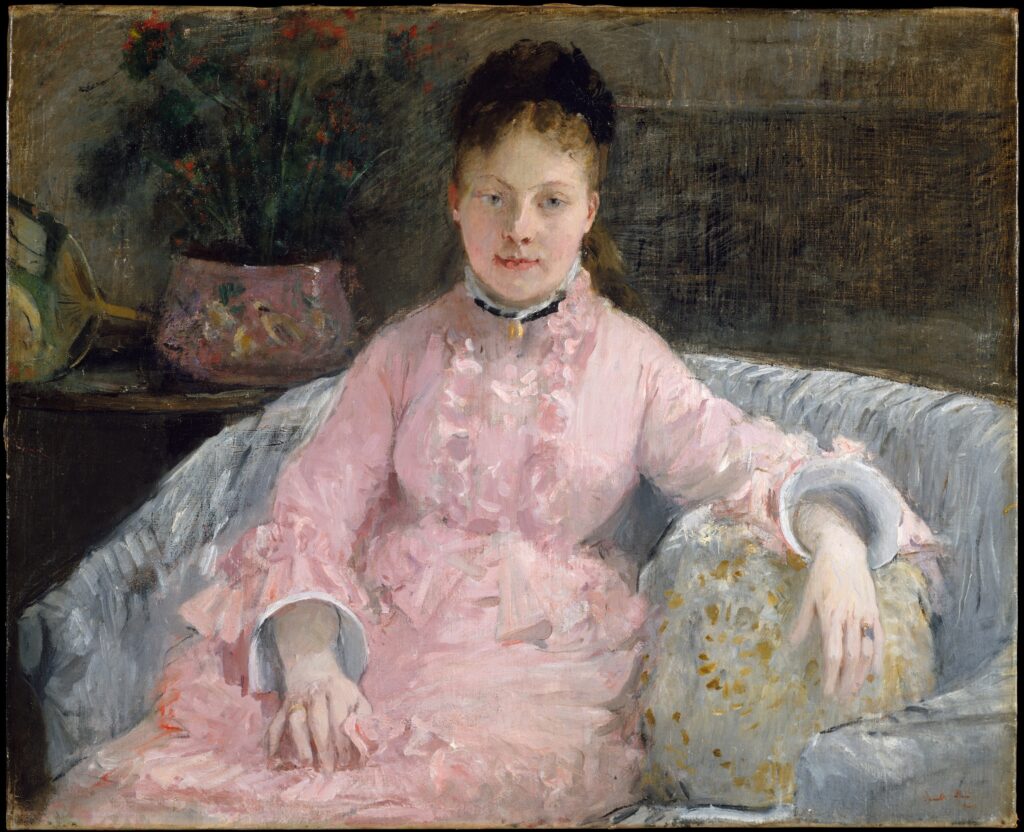 One of the few Impressionist Art female painters is Berthe Morisot, an artist who is widely known for her depiction of female energy using contrasting colors and simplistic forms and broken colors.
7. 

Alfred Sisley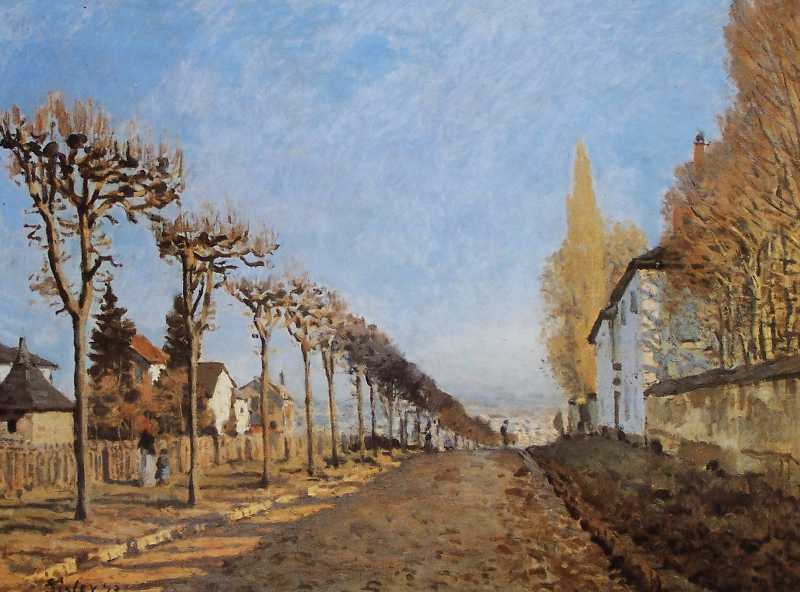 Of the many French Impressionists who worked almost completely in landscapes, Alfred Sisley is considered to have been one of the most talented painters of the entire movement. He is recognized as one of the first artists to have dabbled in the practice of painting en plein air to achieve  highly-realistic and emotionally-charged works.
8.Modern impressionism art 
Following the turn of the century, a renewed international interest in what natural beauty had to offer revived Impressionism. Tom Thompson, Arthur Lismer,  Frank Johnston and more recently Erin Hanson, became inspired to depict the natural beauty of this continent in what is now the Modern Impressionism Art style.
Modern Impressionism Art continues to focus on traditional Impressionist elements such as loose, bold, spontaneous brush work, use of light and shadow, and vibrant colors. However, contemporary approaches  include new techniques such as long brush strokes applied without layering and use of dynamic color.
Summer Day Tom Thomson, 1915
8.Post Impressionism
By the mid-1880s the Impressionist group had begun to dissolve as each painter increasingly pursued his own aesthetic interests and principles and provided a technical starting point for the Postimpressionist artists Cézanne, Degas, Paul Gauguin, Vincent van Gogh, and Georges Seurat. It also freed all subsequent Western painting from traditional techniques and approaches to subject matter.
This painting by Paul Cezanne is a great example of Post Impressionism Art
9.Impressionism Art Book
People always ask for my favorite books on various topics including Impressionism Art so here it is!
You can buy this very comprehensive and highly ranked book on Impressionism Art at Amazon
This post is all about Creating Impressionism Art For All Artists
Other Posts You May Like:
Acrylic Painting Go-To Guide for Newbies
Art Profit Ideas From The Pros