All in one place, the best acrylic painting ideas, tips, hacks, guidelines and information that all the professionals use to make amazing acrylic paintings! I've taken my decades of art experience, pulled out everything pro to save you time, money and frustration. So, here's the only super-packed go-to guide you need, all the pro acrylic painting everything that even newbies can do!
Good for you for trying acrylic painting! It's such a fun medium and can be such an exciting addition to your art career! But, if you're anything like me, you're worried about getting it wrong, wasting money or time. Being an artist myself, I'm helping you avoid all that by giving you only the best of the best acrylic painting on canvas tips, guidance, ideas and everything that I and the professionals swear by. 
You are going to learn all about the pro acrylic painting ideas, acrylic painting for beginners, acrylic painting images, acrylic painting tutorial, acrylic painting techniques, acrylic painting tips, acrylic painting pouring, acrylic painting thinner, acrylic painting ideas, acrylic painting for beginners, acrylic painting landscape, acrylic painting flowers, acrylic painting on paper, acrylic painting on canvas, acrylic painting portrait, acrylic painting price, acrylic vs oil painting, abstract acrylic painting, acrylic painting tutorial, acrylic painting ideas for beginners, acrylic painting for beginners step by step, acrylic painting tips, acrylic pour painting for beginners, acrylic painting inspiration, and more! 
As an artist myself with decades of painting award-winning acrylic paintings on canvas, I created this go-to guide for anyone trying acrylic painting for the first, 12th or 150th time! This has it all and will propel your art to the pro level!
This post is all about the very best acrylic painting ideas that every painter can learn. 
Acrylic Painting Go-To Guide
1.A

crylic painting ideas
Acrylic paint is a medium that professionals use, but it's also easy to work with and affordable — perfect for beginners!
Acrylic painting ideas begin with understanding the two main advantages of acrylic paint:
It's water-based: Acrylics are water-based paints so they're water-soluble, which means they can be thinned to look like watercolor or used straight out of the tube to resemble oil paint.
You also don't need as many special materials to thin the paint or clean up, just water!  That said, you can still add paint medium to acrylics for techniques like acrylic pouring or glazing (see below).
It's fast drying: Acrylic paints and watercolors dry much more quickly than other paints thanks to their water content. That means you can add, make changes or display it without waiting around for hours or days.  Can you say- yay instant gratification?!
Now you know the basics, let's get on with our acrylic painting ideas.
2. Acrylic painting for beginners
Even though you're learning acrylic painting for beginners, start with good-quality paint, the best you can afford.  Bad paint = bad paintings, which leads to frustration.  Trust me, it's much easier and fun to work with quality products.
Some popular brands of student-grade acrylic paints include:
Winsor & Newton
Liquitex
M. Graham
Blick Studio
Arteza
Artist's Loft
As for acrylic painting brushes, there are eight main types  to acquire:
Round 1
Round 6
Bright 6
Filbert
Flat 12.
Fan
Angular Flat
Detail Round
Again, better quality is worth it here. Synthetic brushes with smooth bristles give your painting even coverage and you the bristles won't shed into your paint!
Now, for Canvas, Watercolor Paper and Easel for acrylic painting:
Stretched canvas is easy to work with, inexpensive, and long-lasting.
Canvas board is less expensive and easier to store than traditional canvas but is not considered as high a quality as stretched canvas or watercolor paper.
Watercolor paper takes up less room but you have to clip it to a board to use on an easel.
Whichever paint surface you prefer, make sure you have a sturdy easel. An easel angles your painting, whether you're sitting or standing, giving you a straight-on view so you can paint comfortably and step back frequently to get a sense of the completed project.
Acrylic painting for beginners involves using quality products and set-up so you can have the best start possible in this exciting hobby!
3.Acrylic painting on canvas
Let's chat about acrylic painting on canvas!
Canvas ranges from expensive stretched linen canvases to inexpensive canvas pads.
Acrylic paint can be used on a wide range of painting surfaces (such as wood and paper), but acrylic painting on canvas is the most popular.
The pros and cons of canvas:
its pleasing receptivity to the brush
its longevity and durability
lightweight, great if you want to create a very large painting
The downside is that canvas can be very expensive and therefore, intimidating.
Canvas is generally made from either linen or cotton, natural fibers that are woven together and then stretched over a frame or glued to a panel. Each fiber comes in different textures or weights.
Linen is the best of the best but expensive. If you care about permanence of your acrylic painting on canvas this is the best option.
You can save some money on your acrylic painting on canvas by using a high-quality cotton duck canvas. It's cheaper than linen, but is still a suitable choice for permanent paintings.
The texture varies. A finely woven canvas is smooth and best suited to small, detailed works. A rough texture is preferred for bold brushstrokes and larger acrylic painting on canvas.
The weight is dependent on the thread density and is measured in ounces per yard. The higher the weight, the better the quality. Try to avoid canvases with weights lower than 8-10 oz.
Acrylic is so versatile and that gives you many great options for acrylic painting on canvas.
4. Acrylic painting images
Painter's tape is the perfect tool to keep paint off specific areas and create clean, sharp lines and shapes when you're trying to do an acrylic painting of a particular image. Try this technique to paint buildings, bridges, stripes, geometric patterns, and more.
Tape off a simple shape for your subject (like a vase, building, animal, or a person's silhouette), then paint the entire canvas (over your tape).
Once the paint dries, remove the tape and you now have an unpainted area to paint or leave white for an acrylic painting that really pops!
There are also stencils, stamps and stickers that you can use for your acrylic painting images- don't be shy about getting help from one of these wonderful options.
Try these tools to make acrylic painting images oh-so-easy!
5.Acrylic painting tutorial
Here is the Basic Basics 🙂 Tutorial on the acrylic painting tools:
If you want to add small, precise details or points, you can't go wrong with a fine, wet brush. The bristles on a wet brush hold together, creating a sharp point.  The lighter your touch on the canvas, the thinner your lines and dots.
Use the squared off bristles for thicker lines or larger shapes in your acrylic painting.
Wet-brush technique makes lighter lines that may spread a bit on the canvas or into neighboring wet paint (which can be beautiful FYI!). It gives a gorgeous watercolor look.
Dry brushing makes it easier to add distinctive shapes or layers on your acrylic painting because the paint won't blend into nearby or underneath colors.
Palette knives, a great painter's tool for mixing colors, can also be used to get add 3D affects.  Use the flat side of the knife to create smooth areas or thick ridges, waves, and dollops of paint.
Light, dry-brushing is ideal for adding texture that resembles  plants, dirt, sand, rocks and other natural objects, as well rough-textured objects like jeans, TV static, and more in your acrylic painting.
To sum up the acrylic painting tutorial on tools: Wet brush acrylic painting resembles watercolors and dry brush and palette knife acrylic painting resembles oil painting.
6.Acrylic painting techniques
Now let's discuss acrylic painting techniques for WOWZA paintings.
Don't just use paint colors straight out of the bottles or tubes — mix them up! Use primary colors (red, blue, and yellow) to make your own unique versions of secondary colors (purple, orange, and green).
Adding white to these will create pastels. Avoid black altogether and use other dark colors to avoid the dulling caused by black.  Instead try payne's gray, ultramarine blue, phthalo green or burnt orange (this is my latest color obsession actually ;-)))
When mixing acrylic paints, one thing to keep in mind is that they will dry darker  So another acrylic painting technique is if you're aiming for a lighter hue, mix the color a little lighter than you think you need.
When I blend a color I love I put it in my color diary with a quick note as to how I created it.
Click here to get your own color journal/diary at Amazon
The most important part of this acrylic painting tutorial and to getting better at acrylic painting is to have FUN. Play with your paints to find unique colors and marks.
This is all you need to do to become an acrylic painting pro.
7.Acrylic painting tips
Let's get into some specific acrylic painting tips.
1) Use More Water
Add water to your acrylic paint to make it thinner, so you can drip it, layer it or let it spread/bleed into abstract shapes on watercolor paper.
2) Dab With Stiff Bristles or Paper Towel
Dip the end of stiff-bristle paintbrush in thick paint and dab it on the canvas to create a sporadic, randomized textured marks that can be stars pebbles or a focal point on the thin layer of paint you created in step 1
Next dab a paper towel, rag, or sponge on the wet paint to create different effects.
3) Try Stippling or Repetitive Dabbing
Stippling is one of the more important acrylic painting tips. This is painting with tiny dots, usually in a variety of shades or colors, to create an interesting texture that your eye reads as a solid shape from a distance. It's popular with abstract acrylic paintings and called pointillism.
To try this technique, you just dip a long, pointy brush into a large dollop of paint and poke the canvas to create a tiny dot. Push harder to create larger dots that are closer together for dark areas and lighter/s smaller dots further apart for light areas.
Some artists use this acrylic painting tip to show that objects are shining, sparkling, or shimmering. You could use this technique to add highlights to things like waves, waxy fruit, and glass.
Add depth to your starry night sky by making a variety of dot sizes in a few different colors, like yellow, gray, light blue, and white.
4) Experiment With Dripping and Pouring
Want to paint rain, a weeping willow, dozens of tree trucks or flower stems in seconds? Try spraying damp acrylic paint with water and stand up the painting to encouraged drips. This is one of the more fun acrylic painting tips!
You can also pour paint from different heights to create puddles and pools of color resulting in swirls, waves, splashes, marble-like finishes, and bubbly textures.
Need a little inspiration for your next acrylic painting? Copy the famous painting, The Scream, would be a great way try out this technique.
5) Lift Sections of Paint
For more acrylic painting tips try "lifting" which is just another way to say "removing" or "erasing" paint from your canvas. Why on earth would you want to do that? This acrylic painting technique lets you easily create soft backgrounds, cloud and water effects, the illusion of fabric folds, textured patches, and more.
Experiment with a wet or dry paper towel, rag, or sponge to lift the still-wet paint from your canvas. This technique will take some practice, but it's great for beginner painters to loosen up and experiment, which is what great acrylic painting is all about!
[Related Post: How This Amazing Planner Changed My Art Career And Life]
8.Acrylic painting pouring
You can purchase a print of this poured painting from Dwallart by clicking here.
There's a whole world of acrylic painting pouring now, so if you're ready to dive into this technique, here's how!
Start with a flat surface. Some artists prefer to work on stretched canvas, others prefer canvas boards or panels that take up less space and easier to store.
Liquitex Pouring Medium is easy to get and is the best for this technique. Dedicated acrylic pouring mediums, rather than cheaper alternatives, improve success!
To purchase this Liquitex Pouring Medium- Click here.
Pouring Mediums are self-levelling – so you can almost guarantee a smooth, even paint film. It lessens the chance of bubbles and air pockets,  creates a great pouring consistency and causes your paint film spread evenly without running quickly off the edge of the canvas.
Some artists add silicone oil to this pour medium/paint mixture to give an interesting "cell" effect that mimics bubbles, marble or coral. Similar kinds of effects can be achieved with isopropyl alcohol or alcohol ink mediums for acrylic painting pouring.
The best paints to use with your pouring medium: Acrylic Inks,  Soft Body, High Flow or Fluid Acrylic Paints. These give perfect consistency for acrylic painting pouring, something  between milk and heavy cream). This low viscosity makes it much easier to blend your colors.
Step=by-step instructions for acrylic painting pouring:
Premix your colors into separate cups with a 2:1 ration, pouring medium to acrylic paint.
Add a tiny bit of water (preferable distilled) to each cup and stir.
Add 2-3 drops of silicone oil to each color and slightly stir.
Pour each of the colors in layers into one cup.
Place your canvas on the cup and flip over onto an elevated but level surface.
Slowly lift cup and watch paint flow out.
Tilt the canvas to allow the paint to flow everywhere and off the canvas.
Optional: use a palette knife to gently swipe some of the paint to reveal some more cells and help it to spread.
Leave the pour painting elevated for 2-3 days to allow it to completely dry.
If desired, finish with an acrylic sealer such as a high gloss varnish.
I know it's repetitive but it's TRUE, practicing your acrylic painting pouring technique is fun and exciting- you never know what amazing painting you'll get!
9.Acrylic pour painting for beginners
If the above tutorial is too intimidating you can use this abbreviated instruction list for acrylic pour painting for beginners:
First mix each color with pouring medium in a separate cup.
Take each color in turn and gently pour it onto your canvas or board. This technique allows for more control over where your color goes.
You can drop bits of color here and there where you think the composition requires it.
Once your paint has been applied you can pick up the canvas and gently tilt it to encourage the paint to form interesting patterns and puddles. Allowing the paint to run down the sides will give your composition a finished look.
And if you want something even easier, just put some acrylic paint in a cup, add water until it is the consistency of cream and pour it onto your canvas or canvas board.  Mix another color and pour it on your surface so that it runs into the other color before it dries.
Remember when doing this to use primary colors or secondary colors that mix well together.  You don't want to use two secondary colors that make an unattractive brown or gray when they meet and mix.
Acrylic painting pouring for beginners is a great way to get your feet wet for more complicated acrylic painting pouring down the line.
10. Acrylic painting thinner
What to use for an acrylic painting thinner?  There are at least 6 ways for thinning acrylic paints by adding:
water
specially made thinner
an acrylic binder
a pouring medium
acetone
rubbing alcohol
Liquitex makes many  pouring mediums that have different level of glossiness. Experiment with these to find the one that makes you go "YEAH BA-BEEEEE!"
Just a sampling of the many thinners on the market. Click here to check out many more at Ken Bromley Art Store
Keep in mind that most thinned paints work best on very thick and absorbent paper (like high quality watercolor paper). If you use a gessoed canvas or water-resistant canvas,  thin paint may drip and pool instead of absorbing or spreading.
You can get that wow-factor for your acrylic painting with the right acrylic painting thinner.
11.Acrylic painting ideas
Here are other acrylic painting ideas that beginners can perfect:
1.Limit your color use: You don't have to use lots of different colors to create an eye-catching painting. Instead, try using only three colors. Try different shades, tints, shades and tones of a these colors for interest.
This Pop Art Dog painting is a great example of this technique and you can buy this painting kit by clicking here. The variety of blues, yellows, reds, create movement and energy throughout this acrylic painting.
2.Paint only using black and white. Not only does this create eye-popping beauty, it's a great way to practice your shading without being distracted by color.
3.We've talked so far about thin painting (water color) and thick painting (oil painting) techniques, but try combining the two for a surprisingly lovely acrylic painting.
Acrylic painting ideas are as limitless as your imagination.
[Related Post: The Best Ideas for Getting Art Commissions ]
Here are
acrylic painting for beginners step by step instructions for landscape, portrait, abstract and flower acrylic paintings
12. Acrylic Painting Landscape
An acrylic painting landscape doesn't have to be intimidating!  I walk you through the steps here using the wonderful Samuel Earp's mountain painting as a great example.
Prepare the canvas or canvas board or water color paper with a thin layer of a color you will be using in the painting. Burnt sienna (to add warmth) or ultramarine blue (to add coolness) are good choices.
Sketch out a composition with burnt sienna using a No.2 round brush. Many new artists make the mistake of getting too caught up in the sketch. But a rigid sketch will make a rigid painting.
In your mind divide up the colors into general dark, mid and light "tones" of the acrylic painting. Again, don't get caught up in the exact paint colors, light and dark are more important.
Start by putting in the mid-tones with a combination of ultramarine blue and burnt sienna for the darker mid-tones and then add a little titanium white for the lighter mid-tones.
Paint the snow shadows on the side of the mountains, the sky and water using a combination of ultramarine blue, and titanium white.
The green of the grass is lighter in value compared with the mid ground trees so mix ultramarine blue, and azo yellow. To soften the green and warm up the acrylic painting a little add yellow ochre. Add phthalo green to this for the tree foliage.
Once the blocking in stage is complete, now you can add detail, the lightest and darkest colors.
For these, use the same colors used for the blocking but add lots of white for the highlights and a dark complement color for the shadows.
13.Acrylic painting portrait
For acrylic painting portrait the key is to work in layers and, like with acrylic painting landscape, not get caught up with detail until the very end. Easy to say, hard to do(!) so of course practice is important too.
For this tutorial I'm calling on one of my favorite online teachers Matt Philleo:
Step 1: Start Right With a Sketch which is your roadmap.
The sketch helps you to define all the important detail such as the positioning on the canvas, the background, the darkest and lightest areas, and the unique qualities of the person. Painting is easier than pencil. Try a mix of green and red with white to make a nice gray.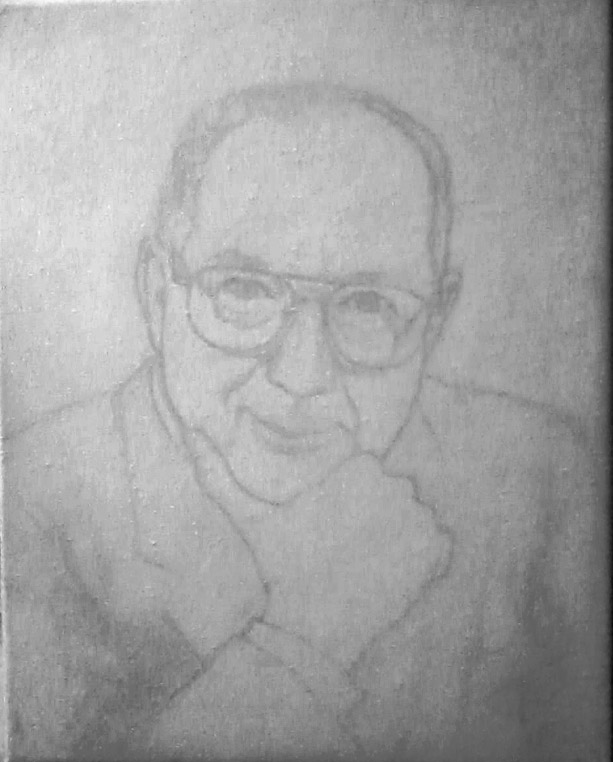 Step 2: Define Your Values.
Using a mixture of burnt umber, raw sienna and white for a medium tone thinned with water or a matte medium. Then, paint this over the entire canvas and sketch.
Now use the burnt umber and raw sienna to make light and dark tones, adding white to lighten the paint and ultramarine blue to darken it.
Roughly fill in the darks and lights.  For instance, dab the dark color to create hair, "laugh lines," folds in the clothes and any other shadows.  Then do the same with the lighter colors.
Next, keeping the paint diluted, continue to add lights and darks in layers.  This layering effect creates a gorgeous glow that paint straight from the tube cannot.
Be careful to not draw with the paint. In realistic paintings, we do not use lines to define a person or object from the background, but rather, we delineate them by value and color.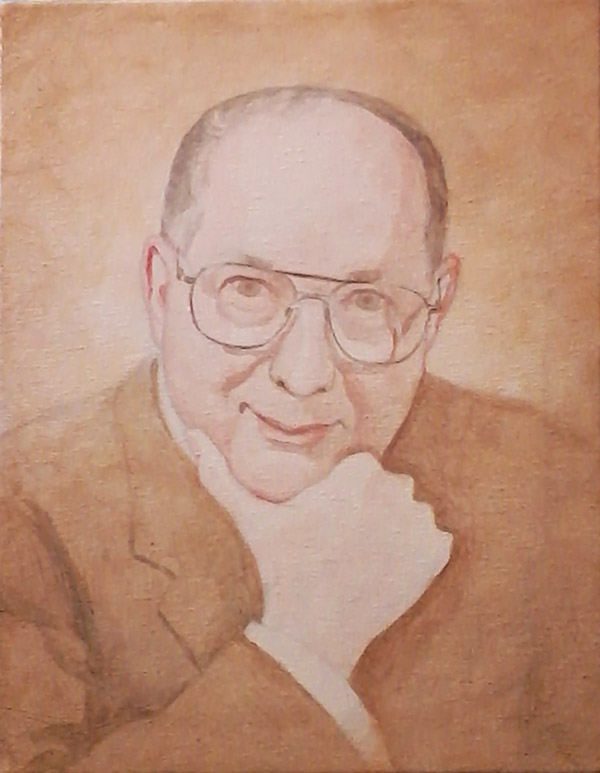 Step 3: Start attending to detail:
Time to put away the white and certainly don't pick up the black.  These colors make sickly gray skin tones.  For darker areas use cool colors (blue, green and some browns)and then for lighter areas use warmer colors (red, orange and yellow). Use a cream color instead of white to lighten.
The idea at this stage is to enhance the contrast by darkening the darks and brightening the lights.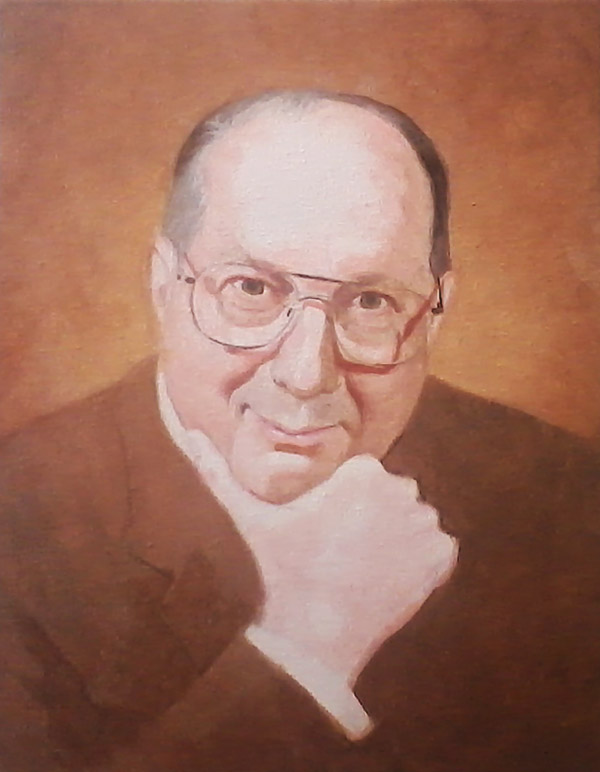 Step 4: Ok NOW it's time for detail.
The most important detail is the eyes, especially the reflection of light on the eyes which you can not forget.
Other important details are highlights on the lips to signal moisture and on glasses or jewelry to emphasize their difference from the skin.
Add a few strands of hair especially at the temples, over your blocked colors.
Also add some realistic pink shade to cheeks, ears and nose. The area right around the eyes is slightly more bluish.
You can suggest a five-o-clock shadow by using a slightly bluish or green-bluish brown.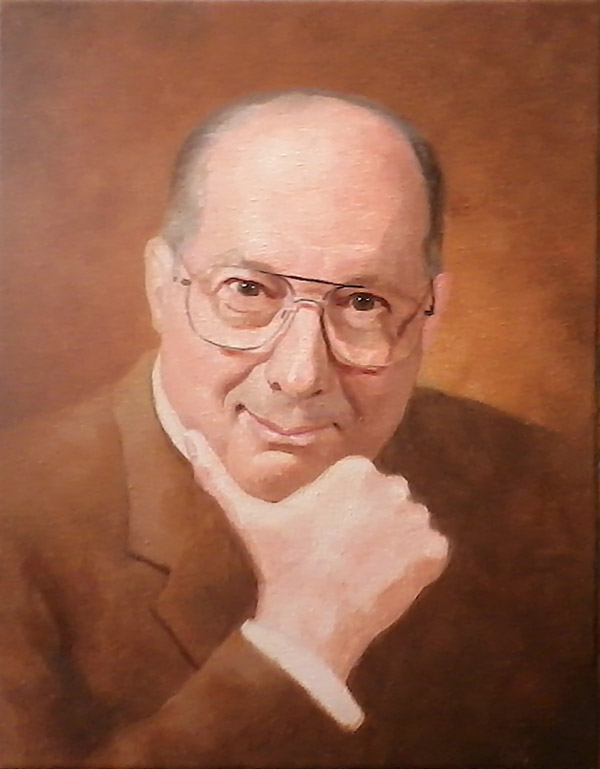 Acrylic painting portrait is all about layers of paint and using shapes instead of lines to delineate detail.
14.Abstract acrylic painting
Abstract acrylic painting is much harder than most non-artists realize.  I personally love the creativity of abstracts but also find them intimidating to paint.
–>So, here's my fun and easy method for "painting" abstracts.
Take a large sheet of high quality watercolor paper.
Pick 3 primary colors – basically any paints that make pretty colors when combined.
Brush, splatter, smoosh, schmear, plop and drip the paint over the entire surface.  Before it dries, lift off areas of paint with a wet rag, spray water or rubbing alcohol in places, stand it up and let it drip or run.
Let it dry.
Take an empty mat or frame and lay it on top of your painting in various places.  Find a section that "works"? Cut it out and mat it!
Even if you don't fancy yourself an abstract artist, practice abstract acrylic painting to take a break from your normal routine, stretch your skillset and have a little fun!
–>And here's "formula" I use for abstract acrylic paintings:
Step 1: Lay Down the Ground Color and Grid.
I choose the ground color that is the complement to the primary color. So if I plan to have a big dark blue sky, or dark green lawn I will choose a yellow/orange color.  If I'm going to paint an large field or seafoam sea I will choose a dark blue for the color ground.
The Rule of Thirds is a great guide when you don't have a reference such as a photo for your acrylic painting. Paint these two horizontal and two vertical lines over the color ground dividing the canvas up in thirds.
Step 2: Put in the Horizon
The horizon line is the focal point,  place it on one of the lines dividing the canvas into thirds. In other words, don't put in the middle (off the grid). Any of these grid lines will work.
3. Set in the ground and sky
Once you have your horizon in, start painting the two big masses of "ground" and "sky". I love using complementary colors which make each other pop in an acrylic painting!
For the ground, I used Pyrrole Red Light, Marigold, and Yellow with touches of white or ultramarine blue.  For the sky, I used Ultramarine Blue, Compose Blue 1, with touches of white or Cadmium Green Deep.
4. Create a Focal Point:
The darkest dark
The sharpest edge
The strongest value contrast
I combine the darkest paint from the ground and the darkest paint from the sky to make a cohesive "darkest" color and use it to make interesting marks on the horizon.
For the value contrast I used a yellow and white to conjure a sunrise or sunset and put interesting marks on the horizon.
6. Mix the rose color with it's complement to make the darkest shade and put some dots of this in the center. Keep going, adding these lights and darks to create more leaves and flower buds to create a beautiful acrylic painting flower.
16.Acrylic painting price
Pricing our acrylic paintings is such a hard things for all of artists!
It can be easy though.
Here's the acrylic painting price calculation the professionals use: Multiply width by height, then multiply that number by X.
X is based on your artist level. $0.50  for beginner, 0.75 for emerging, 1.0 for professional, 2.5 for seasoned professional, etc.  So an emerging artist would calculate an 8×10 painting = 80 square feet by multiplying 80 x .75 which equals $60.00
When calculating your acrylic painting price it's very important to add on your costs to the above price.  This should include all the painting supplies that went into the work plus your studio expenses.
I took my monthly fees (power, rent, water, internet service etc) and divided that by 30 for a rough daily price.  I multiply this by the number of days it took to create the painting and add that on as well.
Don't oversell or undersell your acrylic painting, it will only hinder your progress toward professional status.
17. Acrylic vs oil painting
Acrylic vs oil painting is a hot debate that rages through the art circles and probably always will.  Here's the skinny:
Oil-based paints

are capable of producing excellent tones and colors, which differentiate them from other painting materials. In addition, oils can create both satisfactory linear treatment and crisp effects when used on canvas.

Acrylic paint

is water based. It is known for its quick-drying properties and fast application. They can be used on any surface without having to worry about leaving stains or ruining the surface because of its water-soluble properties.
The

difference between oil and acrylic paint

is that acrylic paints can be cleaned and thinned with water to the point of resembling watercolor paint. Oil paints are thinned and cleaned with turpentine or other solvents.

Acrylics dry

to a hard finish quickly and tend to be easy for students to use.

Oils dry

slowly on the painting surface, which gives artists more time to blend colors or make changes.

Acrylic paint is less expensive

than oils but many artists believe the

glow from oil paints

can not be beat by any other paint including acrylics.
When it comes to acrylic painting vs oil painting there is really no hands-down winner, just a personal choice.
18.Acrylic painting tutorial
There are so many acrylic painting tutorials online and in craft stores like Michael's, this space wouldn't be able to do them justice.
But here are some of my favorite choices.
I adored paint by number sets as a child, and they have had an explosion in popularity and options over the past decade.  They remain a way for me to appreciate the many colors, values and shapes that go into creating a stunning acrylic painting.
Painting to Gogh has an amazing variety of paint by numbers like this one that you can purchase by clicking here.
I also recommend Cory Huff who can help you find your painting composition strengths and how to create a body of work that sells.
Bob Burridge is also a successful artist and wonderful mentor who writes an Artsy Fartsy Newsletter, creates video tutorials called Bob Blasts and you can join him in many areas around the world for his in-person workshops.
Mavenwork does all the work for us and regularly posts their top picks for online and free acrylic art tutorials like this one.
Trust me, it's worth taking a little time to plow through all the options to find the acrylic painting tutorial that you like and can follow.  The artists who create these tutorials can become mentors who can be a priceless resource for your acrylic painting hobby or career.
[Related post: 8 Pro Painting Ideas on Canvas Every New Artist Can Do ]
19.Acrylic painting ideas for beginners
Here are a few of the acrylic painting ideas for beginners that I wish I'd been given when I started on my art journey.
1.Don't forget to play.
Remember when painting was fun?  It should still be that way.  Take time to just play with your paints and painting tools. Find new color combinations, new marks and unique shapes.
2. As you play with your paints and discover a new amazing color, put it in your own personal color mixing chart to remember it.
3. Similarly, when you find a winning color combo, put that in a journal as well.
I often tear out magazine pages when I fall in love with a new color combination and tuck it in my color journal.
4. Don't let "better" rob you of a wonderful piece of work. When you're almost done with a painting, set it aside in a viewable spot.  Give it a few days, you might fall in love with the "almost-finished" work. Remember: we have photography for "photo perfect pictures."
People want to see brushstrokes in their paintings!
5. Don't let intimidation keep you from starting.  Even us pros get intimated by a blank canvas or paper! The key is to start with a simple underpainting (which is simply covering the canvas or paper with a warm or cold paint color).
Then, move on to painting something simple like a pear or apple as a warm up.  This is often just enough to get me going for hours.
If you start these acrylic painting ideas for beginners now, you'll be so much further ahead of the game than those of us who started without this guidance!
20.Acrylic painting inspiration
–>Keep a folder on your phone and a notebook for acrylic painting inspirations that pop up everyday.
–>Crop pictures on your phone or in person and see if you can find a gorgeous inspiration within it! For instance, within this mess of paints was this lovely closeup that resembles a flower. <3
–>Go to museums, especially those showing contemporary artists, for inspiration that will send you running to your easel.
Inspiration for your acrylic paintings is all around, it's just a matter of you training yourself to capture it.
21.Acrylic painting images
Tips for creating excellent acrylic painting images:
–>Use the right equipment when photographing your artwork.
Use a digital phone or camera with excellent, professional-grade features. It should have these features—white balance settings, F-stop (aperture settings), ISO, and the ability to turn off a flash.
Use a tripod so that there is no movement of the camera while you shoot.
Make sure your white balance is set to the appropriate setting based on the lighting you are working with that day (daylight, overcast, etc.), then make sure the aperture (F-stop) is set at or around an 8 (or a landscape setting)
Make sure the ISO is set to about 100, so the details of the picture remain intact.
–>Set the scene before taking the picture:
Pay attention to the way you're positioning. If it's a canvas work that can be hung on the wall, you'll take the photograph straight on. But if the artwork needs to rest against a wall at an angle, then make sure you're shooting your camera from the same angle (this is where a tripod comes in handy).
Keep your background as simple as possible with a neutral color. White is the preferred background color when photographing artwork as it makes the editing process easier.
–>Photograph your artwork in the perfect light.
The best light is outside on an overcast day.
Another great place is indoors, by a window where there is diffused natural light.
If neither of these are an option, lighting kits are easy to find online and a great solution.
You never want to photograph your work in direct sunlight as it will diffuse the colors.
–>Save and edit your work.
Once you've taken your photos, you'll want to upload them to your computer and  edit them.
If you use a Mac or a PC, they both have photo-editing software, which are perfectly acceptable to use.
Adobe's Photoshop or Lightroom is great if you're comfortable with all of their advanced features.
22. Acrylic painting tips

:

Whew! You've learned a lot about acrylic painting today, congratulations!!

The most important take-away tips, suggestions, hacks, guidelines that I recommend from all this are:

Always use the best quality products you can afford. A quality acrylic painting depends on quality products.

Play with paint to 1) learn and 2) to find an amazing painting appear within your "play" painting.

Take advantage of all the free and lo cost tutorials and products to help speed your learning.
This post is all about a go-to guide for acrylic painting. 
Other Posts You May Like: