What to paint with acrylics can be a very big challenge! Even us professionals get stuck sometimes. And, if you want only the best advice (like I do), you'll want to check out my top ideas that have gotten only the best results and are listed in this post.
If you're a new artist, what exactly to paint with acrylics can be daunting! And you probably, like me, want to start on the right foot with no mistakes. So, being an artist myself, I'm giving you only my very best ideas for what to paint with acrylics that I and other professionals have used to get ahead.
In this post, you are going to learn all about acrylic paint set, how to paint with acrylics for beginners, how to paint with acrylics on canvas for beginners, how to paint with acrylics on canvas, how to paint with acrylics on paper, how to paint with acrylics on wood, what to paint with acrylics, acrylic painting ideas, acrylic painting ideas on canvas, abstract acrylic painting, how to paint with acrylics portraits, how to paint water with acrylics, how to paint flowers with acrylics on canvas, how to paint landscapes with acrylics, and more! 
As an artist myself with decades of painting award-winning acrylic paintings, I can tell you first hand what to paint with acrylics that will elevate your artwork!
This post is all about what to paint with acrylics that every artist and painter can use to improve their work. 
What to Paint with Acrylics
1.Acrylic Paint Set
Acrylic paint is a favorite with painters and no wonder!  It's easy to set up, reasonably priced, quick-drying, and forgiving (you can endlessly go over and over mistakes!).
With acrylic paints you can create thick paint strokes, crisp lines or thin washes. It's also suitable for use on a wide range of surfaces from paper to wood.
My picks below will help you find the right acrylic paint to suit your needs.
Liquitex Heavy Body Acrylic Paint:
Having produced the world's first acrylics to the market in 1956, Liquitex is well regarded for its high-quality products.This set is a standout with its dozen classic tubes of professional-grade acrylic paint with very good clarity and vibrancy.These paints deliver a smooth, thick, buttery feel, making them perfect for a wide variety of techniques. They also deliver handling and blending characteristics.They deliver a flexible, crack-free finish that is UV resistant for permanent color.
I've used both Liquitex and Holbein acrylic paints for decades so I know  you can't go wrong with these for your acrylic painting!
2.
How to paint with acrylics for beginners|
How to paint with acrylics on canvas for beginners
Let's start with the Must Haves:
Acrylic Paint Set- See number 1 above for recommendations
Paint brushes- You need at least one large flat brush, one large round brush and a fine point brush.
Here's a great and highly recommended paintbrush set from Amazon
Palette- There are so many options for a palette lying around your house. Try a piece of sturdy cardboard, wax or freezer paper, or paper plates..Here is a cool and low cost option for an acrylic painting palette from Amazon
Painting surface- see canvas and paper options below.
Now for more specifics on how to paint with acrylics for beginners:
Make colors more translucent by adding water.
When applied straight from the tube, acrylic paints can look thick and opaque like oils. Change the paint's opacity by adding more water and it will look like watercolor. The more water you add to the paint, the more transparent the color will become.
Thin acrylics with glaze or paste to change the texture of the paint.
If you only use straight acrylic paint on a canvas, the entire painting will have a bland, uniform texture. So, mix in other mediums, such as glaze, texture paste or water to get different (ie: more interesting) results. 
Glazes will give the dried paint a satiny color and a bright, shiny texture.
Texture pastes add a rough, chunky texture.
Water gives a translucent look but also dulls the color a bit.
How to blend.
You can blend paints on your palette or paint a line of one color, then a line of another side by side next to, or above/below one another. Then, with your brush or finger, go back and forth along the lines, working up and down as you go. This will create a smooth gradient so the colors look like they're blended into each other.
Work in layers to create texture and dimension.
When working with acrylic paints, it's best to work in layers. This will allow you to create dimension, like creating shadows and highlights in a tree by using varying shades of green.
Start with dark colors and broad shapes, then move to light colors and detail.
When you start painting, lay down your outlines, large shapes, and any shadowy areas first with a wet dark color.  Then, as you add each new layer, lighten the color, and add detail, texture, and highlights.
3.How to paint with acrylics on canvas
There are many surfaces on which you can paint with acrylics.  That's what's so great about them!
But by far the most common, or well respected, surface is canvas.
There are many "canvas" options, including canvas board, unstretched canvas, canvas rolls, etc.
But if you want to learn how to paint with acrylics on canvas that's both affordable and convenient, start by purchasing white, primed, stretched canvas at the large art supply stores like DickBlick.com or CheapJoes.com.
To save money, look for sales and buy in bulk. Cheap Joe's canvases are good quality at a reasonable price: 
Once you get your canvas, prime it (even if it comes "primed").
You can buy primer (it looks like white paint) or you can just coat the canvas with any color you have lying around.  I like to choose a color that will be in my final painting.
The main reason to prime the canvas is for smoothness and brighter colors.
After priming, follow the steps above in part 2 for how to continue to paint with acrylics on canvas.
[Related Post: Pro Tips & Ideas for Painting Abstract Art]
4. How to paint with acrylics on paper 
When learning how to paint with acrylics on paper, opt for thick paper meant for acrylic painting.  Any other paper will warp and bend.
The best paper for acrylic painting is at least 300 pounds in weight. Since art paper is cheaper than canvas, this can be a good surface on which to experiment with acrylics.
Paper will absorb some of the paint which leads to a dulling of the color, so if you want a more vivid look prime the paper as you would for canvas and explained in part 3 above.
Here is a good deal on a highly-rated paper for acrylic painting at Cheap Joe's 
Learning how to paint with acrylics on paper is not very different than learning how to paint with acrylics on canvas.
5.How to paint with acrylic on wood 
While you can paint on wood right away, there are a few steps I recommend that will ensure a neater and longer-lasting finish. This step-by-step guide which will show you how to paint with acrylic on wood.
Prep your wood:
The key to a successful wood painting is to prepare the wood by sanding it down with 140 to 180-grit sandpaper or a sanding sponge. Be sure to dust off any excessive grains.
Next, apply a primer:
Like with canvas and paper above, applying a thin layer of wood primer helps seal the wood, make application easier, and lighten the colors.
Here's a great primer to use for painting with acrylic on wood
Paint your picture:
You can use any type of acrylic paint for painting on wood.
I use a wide, flat brush to apply the paint and often paint the back.
Apply a sealant:
Applying a sealant will protect your artwork from peeling or chipping. Sealers come in a wide  range of finishes, including matte, gloss, satin and many more. They are also either spray-on or brush-on sealers. The choice is personal, none are any better than the others.
Apply a thin coat and allow to dry and you're done!
How to paint with acrylic on wood is not much different than painting on any other surface.
6.What to paint with acrylics
Now that you have all the basics, what to paint with acrylics remains the question!
Here is the list of inspirations I keep handy in my studio.  Feel free to pick and add your own!
simple garden
group of flowers
your favorite indoor plant
a bowl of fruit (or individual fruits)
simple landscape
your favorite trinkets
still life objects you have at home (cups, bowls, bottles, etc.)
beach scene
garden scene
sunset scene
easy acrylic painting ideas
Easy Acrylic painting idea: lilac bush
What to paint with acrylics is as easy as looking on your kitchen counter or out your window!
7.
Acrylic painting ideas 
Here are the best techniques I learned to practice and try when you are deciding on acrylic painting ideas:
Try these ideas to inspire you!
Dry Brushing. Start with any dry brush. Add a little paint to the end. Run the tip of the brush over the canvas lightly. This creates a lovely feathery look.
Fan Brushing. A fan brush is spread out like a fan. It makes it easy to paint grass, palm tree leaves and so much more! Use the long side to make an edge, and all the bristles to create thin leaves or lines.
Palette knife. Use your palette knife to pick up a BIG blob of paint and apply it to the canvas. Don't smooth it out completely, but spread or smear it like you would butter on toast.  Leave some of it raised to give the painting texture.
Splatter the paint: Dip a thick brush in paint and then in water. Pull the loaded bristles back with your finger then let it rip! All the paint on the brush will splatter across the page.  This is great for creating snow, raindrops or sparkles.
Use household items. You can use anything to apply paint to a canvas. I like to use cheap common objects such as a  toothbrush, paper towel, sponge, cotton swab, and toothpicks. Experiment with different items to see the different textures you can create and pick your favorite!
There are too many acrylic painting ideas to cover here. The best part about being an artist is coming up with your very own ideas!
[Related post:Drawing Faces-The Insanely Easy Guide]
8.Acrylic painting ideas on canvas
I remember when I first started painting, all the acrylic painting ideas on canvas seemed overwhelming.  So, I just started with very simple concepts and tried REALLY hard not to worry about the end result looking perfect 🙂 .  As my confidence built, the results got better and better.
Here are some of the original acrylic painting ideas on canvas that I used.  I hope they inspire you!
Simple Path:
Forest:

Bouquet:
Seascape:
Acrylic painting ideas on canvas don't have to be complex or perfect.  It's important to have FUN with painting!
9.
Abstract acrylic painting
When thinking about what to paint with acrylics, I used to avoid abstract acrylic painting like the plague- I just didn't get it! Over the years, I've grown to love and find success with abstract work.
Here are the techniques that got me comfortable with abstract acrylic painting.
Dab Paint with Stiff Bristles or Paper Towel:
Dip a stiff-bristle paintbrush in thick paint and dab it on your canvas to create a sporadic, randomized texture.
This quickly creates abstract blossoms, stars, clouds, fireflies or any large amounts of small objects quickly and beautifully:
Acrylic Dripping and Pouring:
This technique gives the illusion of raining or melting. Paint thin layers of color then spray them with a water bottle. Tip the painting up so the water drips and runs off the canvas.
By tilting your surface in a circular motion, you can also create puddles and pools that become abstract waves, splashes, marble finishes, and bubbles.
Use Painter's Tape for Clean Lines and Shapes:
Painter's tape is the perfect abstract acrylic painting tool! It creates clean, sharp lines and shapes.
Here's an idea to get creative: Tape off a simple shape for your subject (like a vase, building, or triangle), then paint a repeating pattern, shape or colors right over it.
Remove the tape and you now have an unpainted blank area. Paint it a contrasting color or leave it white for an art piece that really pops!
This is great for creating abstract buildings, bridges, stripes, geometric patterns, and more.
Make Friends with Your Palette Knife:
Palette knives, a great painter's tool, helps you get creative on the canvas. Use the flat side of the knife to create smooth areas or thick ridges and waves of color.
You can even create lines that are thinner and straighter than a brush could achieve with just a dollop of paint on the edge of your knife.
Abstract acrylic painting is becoming more and more popular with good reason!
10.How to paint with acrylics portraits (1,000)
The key to how to pain with acrylics portraits is to work in layers and, like with all acrylic paintings, not get caught up with detail until the very end. Easy to say, hard to do(!) so of course practice is important too.
For this tutorial I'm calling on one of my favorite online teachers Matt Philleo:
Step 1: Start With a Sketch
The sketch helps you to define all the important detail such as the positioning on the canvas, the background, the darkest and lightest areas, and the unique qualities of the person. Paint sketching is easier than pencil. Try a mix of green and red with white to make a nice gray.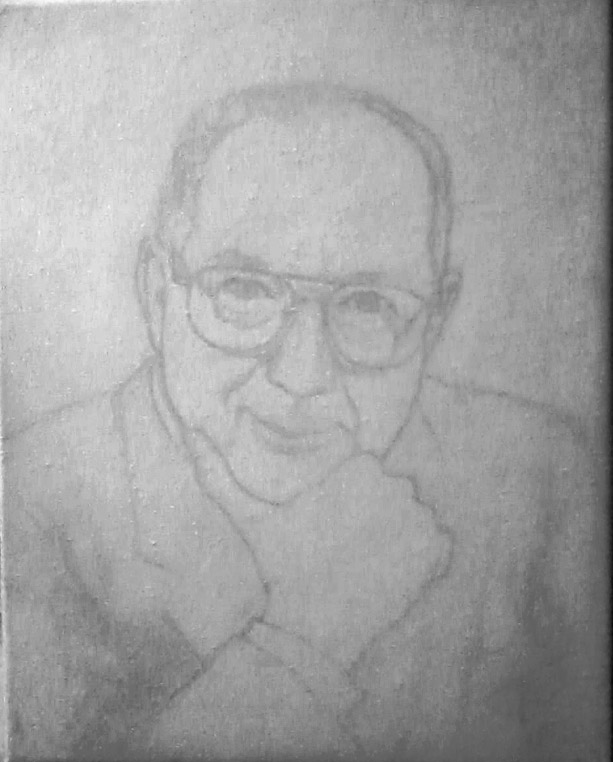 Step 2: Define Values:
Use a mixture of burnt umber, raw sienna and white for a medium tone thinned with water, and paint this over the entire canvas and sketch.
Now use the burnt umber and raw sienna to make light and dark tones, adding white to lighten the paint and ultramarine blue to darken it.
Roughly fill in the darks and lights.  For instance, dab the dark color to create hair, "laugh lines," folds in the clothes and any other shadows.  Then do the same with the lighter colors.
Next, keeping the paint diluted, continue to add lights and darks in layers.  This layering effect creates a gorgeous glow that paint straight from the tube cannot.
Be careful to not draw with the paint. In realistic paintings, we do not use lines to define a person or object from the background, but rather, we delineate them by value and color.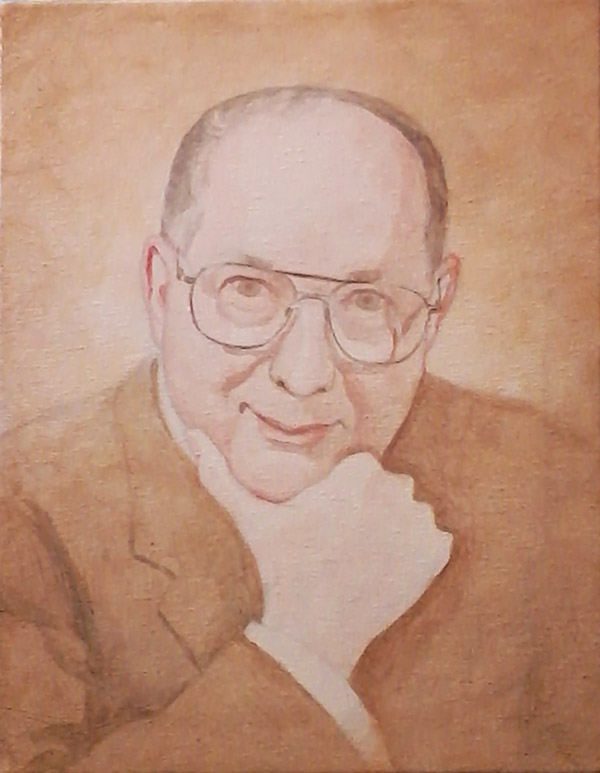 Step 3: Start attending to detail:
Time to put away the white and certainly don't pick up the black.  These colors make sickly gray skin tones.  For darker areas use cool colors (blue, green and some browns)and then for lighter areas use warmer colors (red, orange and yellow). Use a cream color instead of white to lighten.
The idea at this stage is to enhance the contrast by darkening the darks and brightening the lights.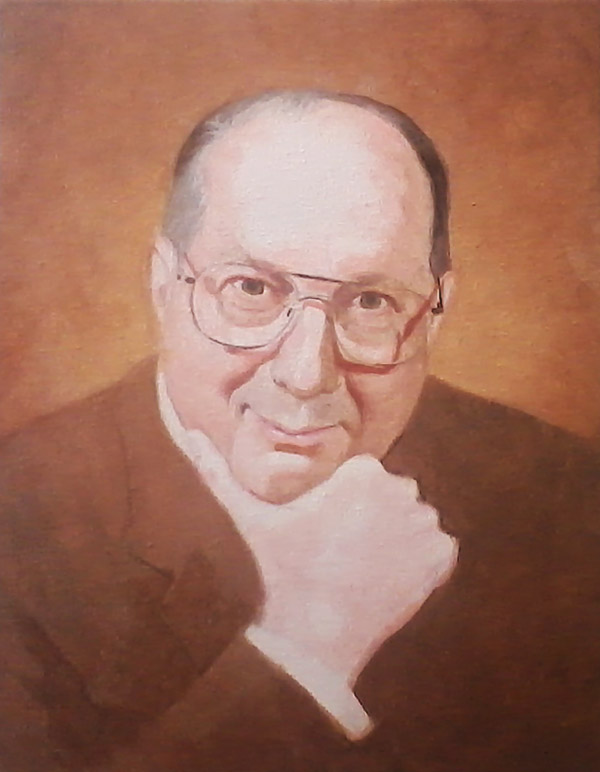 Step 4: Ok NOW it's time for detail.
The most important detail is the eyes, especially the reflection of light on the eyes which you can not forget.
Other important details are highlights on the lips to signal moisture and on glasses or jewelry to emphasize their difference from the skin.
Add a few strands of hair especially at the temples, over your blocked colors.
Also add some realistic pink shade to cheeks, ears and nose. The area right around the eyes is slightly more bluish.
You can suggest a five-o-clock shadow by using a slightly bluish or green-bluish brown.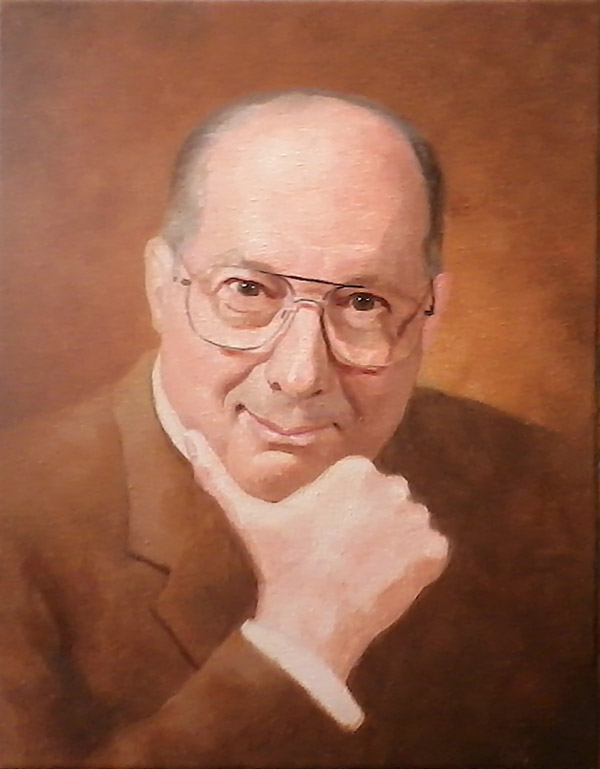 Acrylic painting portrait is all about layers of paint and using shapes instead of lines to delineate detail.
[Related Post: Drawing People-Quick and Easy]
11.How to paint water with acrylics
When deciding water is what you want to paint with acrylics, understand it's one of the most difficult elements to paint realistically.
So, here are some of my best tips for how to paint water with acrylics.
Paint depth:
To show depth, add different colors between the land and water to give a gradient look.
These yellow-brown rocks below give the impression of "steps" between the shore and the deeper water.
Paint calm water:
Observe the reflections on the water, they are in general more muted than the object itself.
Plus, the reflection of a dark object like a tree trunk is lighter than the object itself.  the opposite is true for light objects, such as the leaves of the tree, they will reflect as darker.
Paint shimmer on calm water:
First, paint the water without reflections.
Once it dries, take some acrylic glazing liquid and add to it a small amount of white paint. Apply this mixture smoothly across your painting for a glaze effect. This lightens the water's color just right and gives it a more realistic finish.
Paint running water
Moving water has no reflections so it has no color, it is white.
To depict both calm as well as moving water,add some energetic brush strokes. Go on, be bold with your brush work!
12.How to paint flowers with acrylics on canvas
Paint the background: 
Put four colors of paint directly onto the canvas. Using a wide brush and  up and down strokes create a dynamic background.
Create simple flower shapes:
While using a palette knife, pick up two shades of paint  and then create petal shapes. Don't overwork the paint. Let there be variations in color.
Add different shades of leaves and fill in the flower centers:
Use two or three hues of greens to create different shapes and colors of leaves and then add a plop of paint to the center of the flowers.
Add tiny leaves and flowers in between the larger flowers:
The different textures, sizes and colors grab attention.
13. How to paint landscapes with acrylics
Use a Photo for Reference:
I like to start with a photo as reference to inspire me.  I don't try to copy it but use it for cloud, detail and land contour ideas.
Start with the Sky:
Using a lot of water and an acrylic blue, start at the top of the canvas or paper and work your way down either a third or two thirds of the way down the page.
Make sure the horizon is NOT in the middle of the page as it comes across as "boring" to the viewer.
Add Clouds:
Once the sky is finished, time to add clouds! Clouds tend to be billowy, fluffy on the top and  flatter on the bottom.
Start with a white paint with a tiny bit of the blue from the sky mixed in.  Using a round brush or tissue, rub it on the sky with a quick circular motion.  Make sure the edges are irregular especially at the top of the clouds.
Add a tiny bit of red or pink to the blue color you used to the sky to make a gray.  Add various amounts of white to the gray to get many different shades.  Now rub these grays in quick circles over the white.
Remember clouds are free form, not perfect, so have fun with them!
Paint the Horizon:
I like to paint the farthest point in the distance a lighter shade  in order to trick the eye into thinking it is farther away. Then I paint what is closer in darker colors which makes it seem more vibrant and closer.
I do the same with details.  I'll add different color details to only the closer objects.
Finish the Foreground
Finally, I finish off the painting by ending with the foreground. Here I used a light yellow for a wheat field, but it could be blue for water or green for grass. I follow the same technique I used for the horizon. The further back the wheat goes, the more white I add and the lighter it gets.
Advanced tip: I make the right side of all the elements a bit lighter than the left to give a rounded look.  This also suggests the sun, or light, is coming from the right side and makes it more realistic.
The thing to remember about how to paint landscapes with acrylics is to think of your landscape in horizontal thirds: sky, horizon, foreground with none of these being dead center, and use lights and darks to create distance.
This post has been all about What to Paint with Acrylics
Here are related posts you may be interested in: 
The Essentials for Gorgeous Paint Pouring